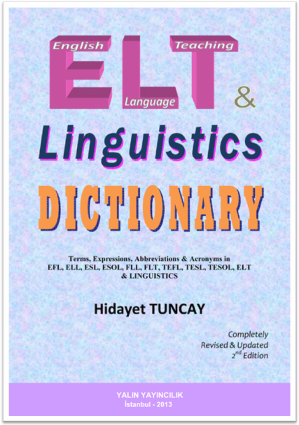 The ELT & Linguistics Dictionary is a companion to the English language as a second / foreign language study. The Dictionary is more likely a reference/guide book for the ELT professionals and the students who have been taking up EFL/ESL courses at their graduate and post graduate education. It was designed to be a user-friendly reference guide. The entries have been chosen carefully and given with clear, understandable definitions.
So it is;
Comprehensive: almost 2321 entries covering all integrated
skills in English language training, linguistic terms closely related to ELT literature and other entries related to EFL, ELL, ESL, ESOL, FLL, FLT, TEFL, TESL, TESOL & ELT;
Informative: it provides bibliographies for most of the entries and a wide range of cross-referencing for more conceptual headwords;
Referential: it gives a hand to the ELT professionals to understand the concepts more specifically used in ELT literature with the original definitions from the prolific writers in the ELT world.
ISBN: 978-605-4539-38-3
Sayfa ve baskı biçimi:  272 Sayfa, 16x24 Cm., 1. Hamur Kağıt Renkli Baskı
Dili: İngilizce
Basım yılı: 2013 (2. Baskı)
Yayınevi: Yalın Yayıncılık, İstanbul
Bu kitabı satın almak için  tuncayyayinevi.com'u ziyaret edebilirsiniz.