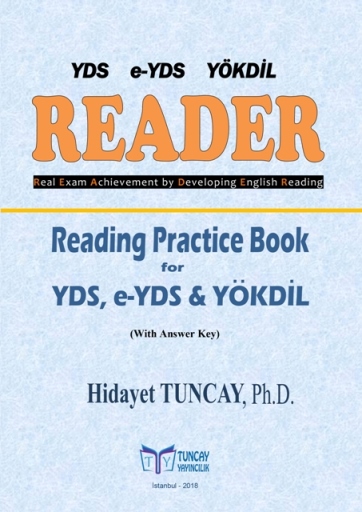 YDS, e-YDS and YÖKDİL READER (Real Exam Achievement by Developing English Reading) is an exam reading-based book and aims at helping learners acquire certain reading skills to be successful in reading comprehension in YDS, e-YDS and YÖKDİL exams. The reading passages cover various topics so that the exam takers may be familiar with different vocabulary in highly qualified passages. The specifications of the book may be listed as follows: 
• The book covers 50 passages about social sciences, science and medical sciences. The passages are classified into three levels: intermediate level, upper-intermediate level and advanced level. 
• The passages were specifically chosen in order to help learners/exam takers improve reading in the English language for exam purposes. 
• In each reading passage, selected vocabularies are given along with their English and Turkish contextual meanings. 
• Approximately 200 YDS, e-YDS and YÖKDİL type questions are given in total to train learners/exam takers. 
• Almost 700 words and expressions are given both below the passages and in the glossary with their English and Turkish contextual meanings.
Yayın Tarihi:Temmuz 2018
ISBN:978-605-68604-0-9
Baskı Sayısı:1.Baskı
Dil:  İngilizce
Kategori: Dil Sınavlarına Hazırlık
Sayfa Sayısı:170
Cilt Tipi: Karton Kapak
Kağıt Cinsi:1. Hamur
Boyut:16,5 x 23,5
Bu kitabı satın almak için  tuncayyayinevi.com'u ziyaret edebilirsiniz.